Lindsey
                                                                                  
There are three reasons that I have trained with Tim for over 13 years:  expertise, variety, and RESULTS!
 Tim is truly the master of meeting his clients where they are at in their journey to "their best self," and helping them achieve far more than they ever thought imaginable.  Tim has helped me to achieve so many fitness goals – ranging from completing a half ironman, to lifting respectable amounts in local Crossfit competitions, to working my baby weight off after giving birth (and it all came off)!  His level of knowledge and expertise, and his passion for teaching and educating his clients, is unparalleled in the industry.
 Many people ask me how I can train every week for over a decade with the same trainer, and the answer is simple – variety.  Tim keeps fitness interesting and makes working out fun.  In the past I have struggled with plateaus and breaking through to the next level, but not with Tim.  He always knows how to appropriately push just beyond your comfort zone and it keeps you coming back for more!
 At the end of the day, I believe that people make an investment in a personal trainer because they want coaching and accountability, but also because they want RESULTS.  I have gotten results…and I keep coming back because the results keep coming.  And it's not just me.  In the 13 years that I have trained with Tim, I have watched him train a woman who lost more than 100 pounds, rehab a child who was told they would not walk again to be able to walk unassisted, and seen him work with more Division 1 college athletes than I can remember.  We would not keep coming back if we were not getting results.
 If you are looking to truly change your lifestyle – and your entire life – I strongly encourage you to work with Tim.  He will give you the guidance, accountability, and persistent push to get you beyond where you thought possible!
Thank you Tim and 360 Fitness!
Kathleen:
When my daughter went away to college, I decided I was going to invest in myself and started personal training with Tim Mikulance of 360 Fitness. I had seen how he worked with people so individually and catered to their needs and thought I am going to go for it. That was 10 years ago….Tim helped me to get ready for 3 marathons and I even got a Boston qualifying finish at the age of 49! He has rehabbed me after all of these events as well….many, many times!
In 10 years I have never done the same workout twice! When Tim opened up 360 Fitness, I was all in! There was no way I was going to change what has been working for me for that long
Surprisingly, what I really love now at 360 are the Sweat workouts. I love the challenge of these small group workouts. We feed off of each other's energy and have a blast even though they are so hard. I am usually the oldest in the group but I never feel like it! I work as hard as I can and love to push myself!
When I workout at 360 Fitness I am more present than I am at any other time of the day. I am so grateful for my health and fitness level. if it wasn't for Tim and his amazing staff, there's no way I would be this strong! You have to try this place out. Throughout my life I have been a member of many health clubs and nothing compares to what happens at 360!
Kathleen Nonnamaker
Pewaukee, WI
Andy:
About 8 years ago, I began experiencing lower back problems that affected many of the sports I enjoyed, especially golf and running. I considered myself to be in average physical condition, but I could not get relief from the constant lower back pain. I began training with Tim Mikulance, who immediately helped me learn about the importance of core strength. Through a combination of individual and group TRX, interval circuits and strength training, he has helped eliminate all of my lower back issues, and I now have the best core strength and cardio endurance that I've had in over 10 years.
Kari:
I began training with Tim Mikulance over 7 years ago when I was looking to add strength training to my workouts. Tim continually pushes me to do things that I never dreamt I would do (like motivating me to train for a half-marathon when I have never been a runner)! Due to Tim's knowledge regarding strength training, endurance training, and nutrition I am in the best shape of my life!
Don:
Tim Mikulance is a truly excellent trainer.
Because of his efforts, I am stronger and weigh less. Tim has been my personal trainer for just 3 months and the results I have achieved to date are largely due to his combination of diverse training methods, individualized exercise programs and challenging yet achievable goal setting.
His professionalism and extensive knowledge (including TRX & a great recommendation for the perfect Protein Recovery Powder) provides the perfect scenario for success and sets foundations for my new healthier lifestyle!
Tim embodies change. Through consistent and positive feedback and encouragement, he retrained my body.
He discovered the athlete in me that I never knew.
Thank you Tim, you are the best!
Mary/Houston: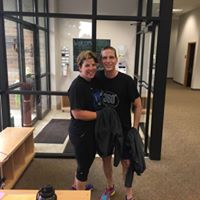 Having group trained with Tim for over 6+ years, we find ourselves living very fit and total healthy lives. Tim motivates and educates us while allowing a little fun along the way. Best testimonial is from our doctors who keep on telling us that at the ages of 54, we are in the small minority of people living lives with no medications.
Maura:
I started working out with Tim 12 years ago. My initial goal was to lose the final 50 lbs. in my weight loss journey. I expected to become physically stronger and healthier. I wanted to learn how to best use the resources in the gym and I wanted the extra motivation that comes with committing to working with a personal trainer. I joined a gym and was assigned a trainer… not Tim. While I worked out with my assigned trainer or on my own, I kept an eye on Tim's approach to training. The types of things he was doing with his clients were the types of things I wanted to be doing. They were doing a wide variety of activities, weight training and cardio mixed, and they were SWEATING!! Tim was kicking their butts and making them work hard. That's what I wanted and needed. I talked to Tim, switched trainers and it's now 12 yrs. later.
I achieved my initial goal. I lost the weight and yes, I became physically stronger and healthier. But I got so much more than I ever imagined I would when I searched for a trainer. Tim's approach to fitness and training focuses on the whole package. Fitness, nutrition, and emotional well-being. I would have been able to reach my initial goal by improving in just 1 or 2 of those; however, by following Tim's approach and focusing on all areas, I am becoming the person I want to be. I can set and achieve bigger and better goals in all areas of my life. Work, personal life and my physical fitness. Tim invests so much of his time and effort into my success, and the success of all of his clients. I really do feel as though Tim is on this journey with me. My success is his success. He's my voice of reason, biggest cheerleader, and was the first person to get me to believe that I CAN. He pushes me to my limits and realizes that those limits change on a daily basis. His workouts are organized and tailored to my own abilities yet flexible enough that he can change them on the fly if the need arises. I never know what I'm going to get when I show up for my session… heavy weights/low reps, interval training, boxing, stretching, basketball, spinning… Outside?? Inside?? Always a surprise. It keeps the workouts interesting and exciting and it allows me to continue to make forward progress. He focuses on the goals I have, yet finds creative ways to accomplish them. No boredom for me!!
As things in my life have changed, my goals and abilities have changed right along with them. Tim and I revisit my goals on a regular basis and he does his homework to tailor my workouts to meet those goals. When I reach a road block, it's not uncommon to receive an email from Tim with an article he found on the internet that may just help me out. Yep, when I found my trainer 12 years ago, I never expected to find someone who cared about my overall wellbeing 24/7, not just for the 2-3 hours/week we meet to workout.
Sandy:
Tim brought me back to living an active life! After a car accident, and two rotator cuff surgeries, I had gained weight and had very limited mobility of both arms. Even after lengthy sessions of physical therapy, I couldn't enjoy the water sports that I have loved my whole life.
After less than 6 months working with Tim, I had lost over 10 pounds (and have kept that and more off), as well as am back to enjoying kayaking, tennis and almost full extension of both arms. My surgeon said that I have recovered better than 99% of his patients, and I owe it all to Tim.
Not only has he been able to get me back to doing the things I love and fitting in 2 smaller size clothes, he also has made me want to maintain this with his positive words and actions. He listens, is truly concerned about more than your physical wellbeing but the mental state that may contribute to going back to old habits…
He recently helped me prepare for a big event… my son's wedding. My arms never looked better in the strapless gown I wore.
I can't imagine being without Tim as a trainer… and a friend.
Pam:
There are few people in life that you consider critical and instrumental to your ability to achieve your goals and fulfill your potential. Tim Mikulance is one of those individuals in my life. As a petite and slight individual who struggled athletically as a youngster, I came to Tim lacking both physical and mental strength. While endurance was not an issue for me, I lacked speed and power, but more importantly I lacked the belief in myself one needs to push forward and see possibility.
I now have that because of Tim. With Tim's help, I took more than an hour off my Ironman time. While that's a great accomplishment, what was more meaningful was finally believing and understanding that I could do it. Thoughts of "I hope," transformed to "I can" or "I will." From Tim, I built muscular strength as well as mental strength.
Tim's sessions, are often the highlight of my day or week. He strikes the right balance between knowing how to encourage beyond what you think you can do and recognizing when you've finally reached your limit. He balances expectation with care. You always leave an encounter with Tim feeling a sense of accomplishment, a small victory that gives you the confidence to move forward on your next task whether at work or play.
He has that charismatic ability to inspire you even with a simple "Go Pammy" shouted from the sidelines.
Tim's value is not limited to those who pursue endurance goals. He will always play a role in my health and wellness efforts so that as I age I can continue to enjoy a lifestyle.
Mike:
Tim is so knowledgeable when it comes to training, I call him "Professor".
He's great to work with, pushing you just enough to get great results, without over doing it. Always with a smile. He's the best!
Matt:
I worked with Tim as a trainee in his functional strength classes for endurance athletes, as well as TRX classes. He has a huge knowledge base and really gets after it. It made a big difference in my performance. In addition, Tim is very personable and someone I call with a question or just to say hey. If you aren't training with him you should be!
Taylor:
I started training with Tim Mikulance 10 years ago when I was entering high school and had goals to be a successful high school athlete. Tim's focus of functional movement and agility training in young athletes was the foundation of my high school success as he prioritized form and technique to prevent injury. As I got older, Tim used that foundation as the basis of my strength training focusing on developing the strength needed for a track athlete. Tim knows that champions are created in the off-season every hop, skip, jump and squat in the off-season resulted in me being a Wisconsin All State Track Athlete in the 200m, 400m and 4x400m.
Tim is one of the most dedicated personal trainers that I have encountered. Tim is constantly developing himself and enhancing his knowledge for the betterment of his clients. I hold him in the highest regard for his ability to breakdown a situation and problem solve from the ground up. He doesn't focus on the result; he focuses on the cause. Beyond the knowledge of his craft, Tim is professionally driven to help his clients succeed in whatever it is they choose to participate in; and can instill a sense of motivation in the people he works with that they may not know exists. I could clearly hear his voice as I during the many track meets he attended during my high school career.
Personally, Tim's knowledge and training is my foundation as a Graduate Assistant Athletic Trainer at Syracuse University. He is one of my biggest supporters and has continually provided support, listening to me contemplate college, work, or fitness in general, he has never stopped listening and acting as a key advisor in any small amount of success I can claim as an athlete or professional. Tim truly cares about the whole individual, not just their fitness goals and achievements but their familial, personal, and well-being goals and achievements.
I have been fortunate enough to train with Tim for an extended period of time and I recommend him, and his team at 360 Fitness, with the highest regard.
Carlene Z: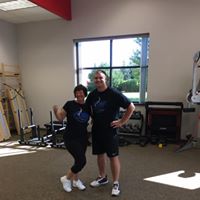 I started working with Matt as part of a weight loss program, but we quickly established that my fitness goals went well beyond weight loss to lifelong strength, flexibility, balance and control as I get older. Matt created a rigorous and challenging program for me, and soon had me accomplishing things I wouldn't have believed possible. His focus on doing things the right way gave me the confidence to succeed. Thanks Matt!
Shelli:
I have been working with Matt for three months and have seen amazing results. I have never felt stronger or healthier. I used to see a chiropractor once a week for my back. Since I have been working with Matt, I have not seen the chiropractor since the end of last year. Matt is passionate about fitness and it shows through the energy and enthusiasm he brings to every session. He makes every workout challenging but fun. He always pushes me beyond what I think are my limits. If you are serious about changing your life for the better, I could think of no better trainer than Matt.
Thanks Matt, you are the best!
Jaime:
Working with Matt has had an extremely positive impact on my life. Having the accountability to come in, work my hardest and gain the confidence to know the proper way to experience exercise are only a few of the positives from my time at 360 Fitness. Matt's approach is unique and collective – from getting the right nutrition to promoting the importance of sleep, he has helped me create a great balance that moved my fitness to the next level!  Thank you Matt! 
Debbie :
Matt is an excellent trainer!  Not only is he knowledgeable, he is also encouraging and positive.  He makes working out fun, he continually comes up with new and challenging things and pushes me to do more than I ever thought I was capable of.  I feel healthier and stronger than I have in 30 years!!!!
-Debbie Horne
Chris Steingart
Josh is the absolute BEST trainer! I started training with Josh because of my rheumatoid arthritis. As I aged, I was concerned about losing my mobility and range of motion, I also wanted to lose a little weight if possible. I've had a few personal trainers before Josh, who knew about my RA. They designed programs for me which resulted in less mobility and more pain during the days after my workout. I was very wary about trying another.
Josh started slow and as I progressed he made things more challenging for me which got me thinking, "Yes, I can do this!" Plus the workouts were fun! I used to take stairs one at a time but now can go up and down the stairs in a normal fashion. My stamina has also improved, my joints don't ache, I have more energy, and I feel better about myself. My thought process has changed from, "I don't know if I can do this" to, "I can!" I was able to Bench Press 65lbs, Row 90lbs, and leg press 210lbs for reps. I can now squat on my own with weights, and have greatly improved my balance. I have been with Josh for over a year, and I cannot imagine working with anyone else. He is truly a one of a kind trainer.
Bree Hayes
My main goal when I started working with Josh, besides the standard losing weight, was to gain more muscle. I wanted to not only look stronger, but actually be stronger and healthier! When we started I was six months postpartum and I have persistent pain in both my feet, so I was nervous that a trainer wouldn't take it seriously; however, Josh was very considerate of my limitations. Not only did he make a conscious effort to prevent me from being in pain while working out, he made it so I enjoyed doing the work-gradually challenging me to improve my strength and conditioning.
I felt very comfortable with Josh, but the best part was that he pushed me way beyond what I thought was possible! He kept me on a very consistent schedule that worked around everything else in my life. Also, he went above and beyond by providing additional homework for our days apart and lots of helpful information regarding my diet! Because of this, not only have I lost weight, but I did it while seeing a significant increase in muscle mass and decrease in body fat. There was never a time where things
plateaued. Josh really helped me realize what my body and mind are capable of! I occasionally go back to group exercise classes and am amazed at the difference I feel in my strength and cardio level since I
began training with Josh. My conditioning has improved, and I am now fitting into the same size pants I was in high school! I would not choose anyone else besides Josh to train me!
Bill Walsh
Josh is a great personal trainer. His passion for strength training comes across in the way he educates and motivates his clients.  I first met Josh as a beginner in a strength training class. He took the time needed to demonstrate each exercise, watched us like a hawk for proper form and technique, and modified the exercise if necessary.  My apprehension about using the weight room went away quickly.  After the class ended, I signed up with Josh for personal training with the intent of learning more exercises and developing exercise routines I could do later on my own to tone muscle and maintain bone density. The results of our work together exceeded my expectations. I got what I was looking for relatively quickly. On top of that, by the time we were done, I was lifting far more weight than I ever imagined possible and my body fat %, which was reasonably low to begin with, had gone down even farther. All thanks to Josh.
If you're looking to start a strength training program or want to take your current regimen to the next level, I'd check out what Josh has to offer. You bring the dedication and commitment and Josh will provide the knowledge and motivation to get you where you want to go … and maybe beyond that as he did for me.
Rich Kolbe
When I began training my overall goal was to further strengthen my knee to support my previously torn ACL. After tearing my ACL, I had a lot of reticence to perform exercises that stressed my knee. It felt very uncomfortable, and unstable. I lead a physically demanding lifestyle for a person in their mid-sixties, so I wanted to try training with Josh to get my body back to the way it was before tearing my ACL.  I have made significant progress since I began training with Josh! He worked with my Physical Therapist, and developed a good training plan. I have been able to increase the number of repetitions and increased the resistance while using weights. I have also gained confidence to move freely up and down stairs
without pain, as well as the freedom to return to the physical hobbies I enjoy– such as working on my family's farm. Josh's confidence in his training plan for me helped me become more confident as well.  Many of the routines were new to me, but through the increasingly challenging workouts, I was able to feel more comfortable as I progressed. The results followed as my confidence grew.
Diana Macias
When I first came to work with Josh my number one goal was to tone my body and be healthier. Another important thing for me was to have someone teach me the right technique and exercises to achieve the
desired results. I had some reservations about hiring a personal trainer because I thought training was exclusively for people who wanted to body build or for the extremely overweight-which turned out to not be the case!
One thing that really amazed me is that I didn't realize how strong I was after not exercising for so long. I feel Josh has helped me get strong and fit in such a short time. Becoming strong has also translated into my personal life, mind, and spirit. Now I can say I know I am a stronger person. Josh showed me you don't need good genes to be fit-just no excuses. What you need to learn is how to workout effectively, and only a personal trainer as knowledgeable as Josh can help you learn how to do that while achieving
your personal goals.  Since working with Josh I have lost over 6lbs of body fat, while gaining 4lbs of muscle! He has made me enjoy my workouts during our sessions and on my own. By following his exciting and extensive variety of workout routines he has made it fun for me to get in shape!
Samantha M.
Josh is one of the best personal trainers out there. He cares immensely for all of his clients and works hard to make each one succeed (sometimes I think he even cares more about my success than I do!). If you are
having an issue with your workout or have a concern, Josh listens to you and adjusts the program accordingly. When I first came to Josh I was looking to gain muscle and lose a little weight. I had been weight training on and off since high school, using body building programs I found for free online, but I had not been seeing many results. 
Since I was familiar with lifting and working out in general, I really didn't think there was much more I could learn. However, the personalized workout plans were incredibly helpful and fit my personal needs and restrictions (for example, my shoulders are uneven, so certain exercises are difficult to do). So far, I have been able to lift more weight while losing fat. I wanted to build my butt and upper body, and I have definitely been seeing results!  Josh holds me accountable for my workouts and checks in with me nearly every day through email and messaging. Non-lifting related, he has also encouraged me to have a healthier diet, and has given me helpful nutritional guidelines to follow. Josh is extremely encouraging and recognizes when you are working hard and trying your best. I would never go to anyone else.
Shamith Gopi
I came to the gym wanting to improve my strength and conditioning to restart playing soccer, while looking to reduce my weight by 10lbs in 2 months. Since it was my first ever attempt to work out in the gym, I was having concerns how to lift properly and what exercises are good for me. Also, I was having lower hip pains due to my posture caused by my daily routines and having a fatter belly.  Initially, the exercises were very tough and testing my strength, but over 6 weeks of personal training with Josh, I've improved my strength for most lifts by 30-40%, and I lost the 10lbs of weight I was hoping to as well. 8lbs of it was fat! I wasn't able to run for even two minutes on the treadmill before training but now I am easily running 20 minutes without breaks. A great achievement in terms of strength was to realize that I was able to almost 1.5x more weight in just 6 weeks for certain lifts after training with Josh!
Mark Stuckey
When I started working with Josh, I was looking to drop weight and get into better shape. After years of avoiding the gym, I needed to be re-introduced to a workout regimen and properly learn how to use all of the equipment that the gym had available. Josh was able to start me off slowly. I was learning proper technique and different ways to structure a workout schedule. He was also able to adjust on the fly for me. If there was something I was not able to handle, he would be able to quickly adjust our workout so that I was receiving the same level of impact with an exercise that I was able to do. Eventually, Josh was able to move us into more varied sequences of exercises that had me cursing him after one minute of
activity. I was leaving the gym more exhausted after 30 minutes with Josh than after an hour and a half by myself.  My initial reservation of working with a personal trainer was that I wasn't going to be able to connect with
them. I was worried that Josh would be another muscle-bound meathead that wouldn't be able to converse about anything other than what set we were on and how much he benched earlier that day. By the end of the first session with Josh, I knew that to be a wrong assumption (although, he can pull off meathead if he wants to…). I highly recommend working with Josh to anyone looking to improve their workout routine, or to make a new smart-assed friend.